Public-sector contract talks | Vague and disconnected offers to improve mental health services
February 22, 2023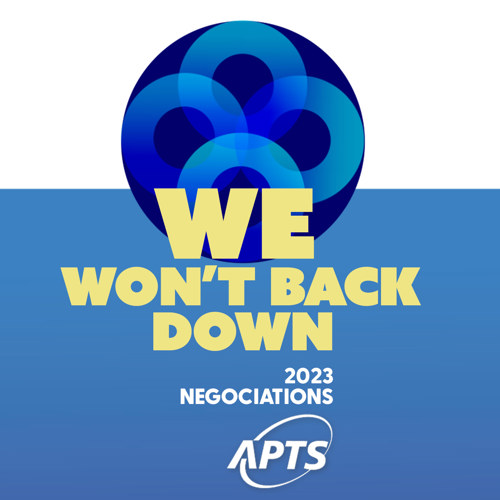 Longueuil – The APTS (Alliance du personnel professionnel et technique de la santé et des services sociaux) is very surprised by the content of offers regarding mental health services that were received today. The offers were communicated in an email from the Treasury Board rather than at the bargaining table, even though union representatives had been at the table all morning.
"Minister LeBel announced that the government wants to improve the compensation given to public-sector psychologists," said APTS president Robert Comeau. "We don't know how they want to improve it, or by how much – the government is keeping things vague. Meanwhile, for months, we've been asking it to give a mandate to settle pay equity complaints dating back to 2015."
The government's proposal, first announced in public, is also intended "to make public services more accessible by ensuring that other employees play a greater part in handling some mental health services." But employees holding other job titles are also acutely affected by work overload and the labour shortage. Under these conditions, the government's proposal to give them new tasks and duties, without first improving their working conditions in order to attract and retain personnel, is strange and probably ill-advised.
"The minister announced yesterday that her offers would be presented at the bargaining tables," said Josée Fréchette, 1st APTS vice-president and political officer responsible for provincial bargaining talks. "We were at the table earlier today, with our counterparts representing the employer. The offers were not presented there. Instead, the employer's representatives chose to send us their proposal by email an hour after leaving the meeting. What game is the Legault government playing? Our reason for meeting the employer's representatives is to make progress in our negotiations within the framework established for that purpose. We're there to obtain clarification and make proposals in good faith. Contract talks aren't just a matter of exchanging emails."
A narrow vision of the health and social service system
"With all due respect to Ms. LeBel, the 'care team' isn't just made up of nurses, and the 'mental health team' isn't just made up of psychologists," said the APTS president. "Hospitals need labs; you can't resume surgery activities without medical imaging; and you can't provide mental health services without the expertise of social workers, educators, sexologists, psychoeducators and other providers of psychosocial care."
The offers tabled by the government today, and its obsession with its forums and "government priorities," demonstrate once again its failure to understand how work is actually organized in the health and social service system. The system is suffering from structural problems, and the labour shortage affects the vast majority of job titles employed by it.
"If we don't take steps to improve attraction for all job titles, and to incite employees to stay, we won't be able to solve the problems besetting our health and social service system," said Josée Fréchette. "In fact, we won't even be able to solve the specific problems targeted by the government. The government has to be willing to compromise and demonstrate an open attitude towards unions. Unilateralism won't get us anywhere. The APTS has proposals to provide overall solutions for these problems – and the government will have to look at them in order to reach a collective agreement that will truly improve access to public services."
The APTS
The APTS (Alliance du personnel professionnel et technique de la santé et des services sociaux) represents more than 65,000 members who play a key role in ensuring that health and social services institutions run smoothly. Our members provide a wide range of services for all Quebecers, including diagnostic, rehabilitation, nutrition, psychosocial intervention, clinical support, and prevention services.