Public-sector contract talks | The APTS is losing patience
October 20, 2021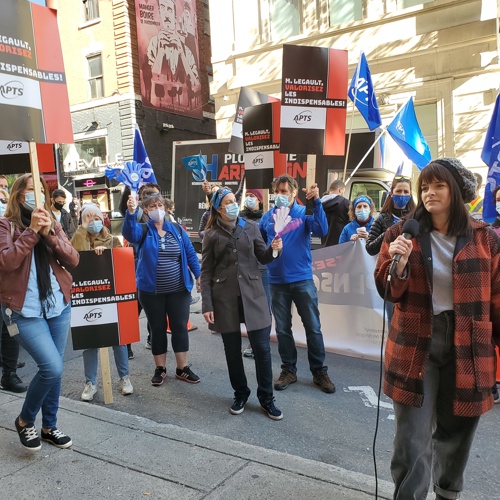 Montréal – The day after Premier François Legault's inaugural speech, members of the Alliance du personnel professionnel et technique de la santé et des services sociaux (APTS) demonstrated in front of the Treasury Board Secretariat in Montréal. Using a giant hourglass, union members put Sonia LeBel on notice that the time for deliberation is up. The APTS is exasperated with the Treasury Board President's failure to consider its proposals for attracting professionals and technicians to the health and social services sector and inducing them to stay.
"Work overload and the labour shortage are undermining Quebeckers' access to health care and social services. The pandemic can't be blamed for everything. At very least, the government should discuss these issues in good faith, as they affect our society," declared Émilie Charbonneau, 4th vice-president of the APTS, responsible for mobilization work.
The 60,000 APTS members were incensed at the measures announced by the Legault government to mitigate the nursing shortage. "Professionals and technicians play a crucial role in public health care and social services. What's taking the government so long to recognize and value their work? Why alienate our members and send the wrong message when people need to be recruited to work in labs, medical imaging and nuclear medicine units, youth centres, home support services, mental health services, and other key sectors where waiting lists are getting longer all the time?" decried Émilie Charbonneau.
Stronger pressure tactics can be expected if the Treasury Board doesn't change its attitude. "Our public health and social services are being kept afloat by dedicated employees, but they are exhausted and are running out of patience. Rank-and-file discontent is simmering. We are not ruling anything out to arrive at a negotiated settlement as soon as possible. The APTS still has a mandate to call six strike days," warned Robert Comeau, interim president of the APTS.
APTS members have been without a contract since March 31, 2020.

The APTS
The APTS (Alliance du personnel professionnel et technique de la santé et des services sociaux) represents 60,000 members who play a key role in ensuring that health and social services institutions run smoothly. Our members provide a wide range of services for the population as a whole, including diagnostic, rehabilitation, nutrition, psychosocial intervention, clinical support, and prevention services.