Contract talks will resume for the APTS
October 01, 2021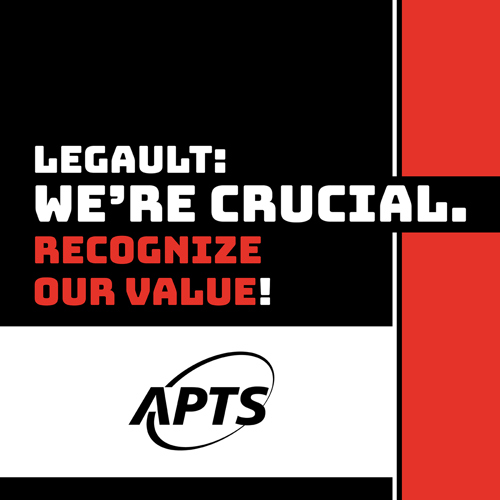 Québec City – At a meeting on September 30, Treasury Board president Sonia LeBel showed an open attitude towards the APTS (Alliance du personnel professionnel et technique de la santé et des services sociaux) and was willing to hear its concerns. The parties have agreed to go back to the bargaining table in order to renew the collective agreement.
"Both Ms. LeBel and the APTS want to reach a settlement, and talks will be resuming shortly with spokespeople from the Treasury Board Secretariat," says APTS interim president Robert Comeau. "We have a message from our members: they're asking for measures to reduce work overload and help the system attract and retain employees."
At the meeting, union representatives told Ms. LeBel that professionals and technicians are angry and disappointed with the Legault government, which seems unwilling to recognize the true value of their work. The fact that premier Legault did not attend the meeting only served to reinforce this perception. The APTS reminded the Treasury Board president that any new agreement must include measures to acknowledge the crucial work carried out by Class 4 personnel.
"We're being told that a settlement can be quickly reached," says Comeau. "For that to happen, words and actions will have to line up – and we're going to stay mobilized to make sure they do. The APTS has shown itself to be in good faith over the past 20 months. We've made suggestions to improve our members' working conditions. If the government really wants to deal with the labour shortage affecting the public system and prevent future breaks in services, it will have to focus on attracting and retaining employees."
The APTS
The APTS (Alliance du personnel professionnel et technique de la santé et des services sociaux) represents a total of 60,000 members who play a key role in ensuring that health and social services institutions run smoothly. Our members provide a wide range of services for the population as a whole, including diagnostic, rehabilitation, nutrition, psychosocial intervention, clinical support, and prevention services.