Reform of the Occupational Health and Safety Act | The APTS rejects Bill 59
September 30, 2021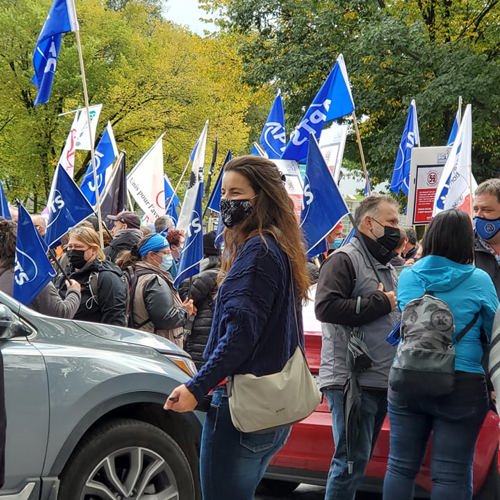 Longueuil – The APTS (Alliance du personnel professionnel et technique de la santé et des services sociaux) rejects Bill 59, An Act to modernize the occupational health and safety regime, and is asking labour minister Jean Boulet to withdraw the proposed legislation.
"Minister Boulet said he was going to modernize the Occupational Health and Safety Act," notes APTS interim president Robert Comeau. "The idea was to significantly improve prevention in workplaces, but Bill 59 doesn't even come close to reaching that goal. In terms of reparations for employment injuries, it's actually a major setback."
Bill 59 extends prevention mechanisms to all activity sectors, but it weakens their impact. "This legislative overhaul reduces the role and powers of employees in terms of prevention, and it also restricts the powers assigned to occupational health and safety officers and liaison officers," says APTS 5th vice-president Josée Fréchette. "The draft bill submitted to MNAs doesn't even guarantee a minimum number of paid hours for employees who want to get involved in prevention activities at their institution."
"Proposed changes to the Industrial Accidents and Occupational Diseases Act are equally problematic," adds Fréchette. "The law shouldn't create obstacles to the recognition of occupational diseases – that's unacceptable. We don't think people should be forced to go back to work before an employment injury is consolidated, nor do we believe the CNESST – Québec's Labour Standards, Pay Equity, Occupational Health and Safety Commission – should be given the power to impose measures in this area. We're also extremely worried about the regulatory powers granted to the CNESST with regard to medical assistance."
The APTS and other unions are continuing their mobilization efforts to protect the rights of people who have suffered employment injuries, and to make sure workers have ways of taking action in the workplace to make prevention a reality. This is why the APTS is joining the demonstration in front of the National Assembly at noon to protest against the setbacks embodied in Bill 59.
The APTS
The APTS (Alliance du personnel professionnel et technique de la santé et des services sociaux) represents a total of 60,000 members who play a key role in ensuring that health and social services institutions run smoothly. Our members provide a wide range of services for the population as a whole, including diagnostic, rehabilitation, nutrition, psychosocial intervention, clinical support, and prevention services.