The future is feminist: our future is feminist. This is the key idea behind the Collectif 8 mars campaign for 2022, arising from our many combats, fights, and struggles. Because we're strong, stubborn and steadfast, we're demanding a feminist society that embodies our progressive values. Turning back, getting back to "normal," or keeping the status quo are options we won't consider. We want a society that brings our many voices and horizons together and is able to acknowledge that oppression is intersectional, a society that will finally answer our needs and honour the rights and dignity of all women. Our commitment to that other world, based on freedom, solidarity, justice, peace, and equity, is confident and hopeful. Other crises will arise: now is the time to act. Our future will be feminist, inclusive, and ecological, or there will be no future. A feminist society is not a utopia – it's the solution.
What is the meaning of our 2022 visual?
Created by artist Stacy Bellanger Bien-Aimé, our visual this year breaks with the gloomy atmosphere and political cynicism characteristic of the past few years, shaped by the public health crisis (among other things). The hands remind us that we need to join forces to bring about a better world. The rays, resembling sunbeams, symbolize women's historic struggle for their rights. The optimistic perspective at the end of the road embodies our collective intention to achieve a feminist future in which each and every one of us can live and flourish in peace.
For exciting ideas about how to use this year's slogan, visit the Collectif 8 mars website at lavenirestfeministe.com and look at its Facebook page.
Help spread the word about your local or regional mobilization activities by sharing them on social media to show the power of our members' feminism!
TO SHARE, click on these images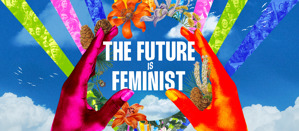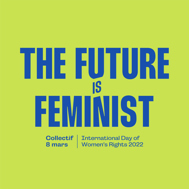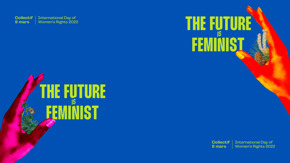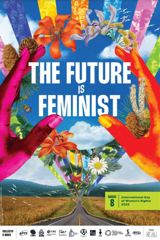 Source: Collectif 8 mars.
Illustration : Stacy Bellanger Bien-Aimé, Molotov communications.