Contract talks | Exasperated by slow-paced talks, the APTS occupies a government building
November 05, 2021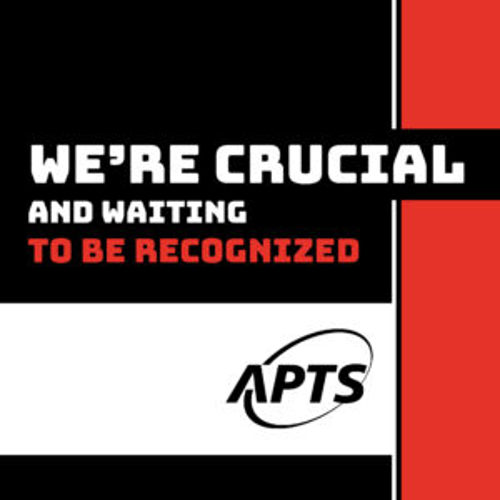 Québec City – Some 200 members of the APTS (Alliance du personnel professionnel et technique de la santé et des services sociaux) occupied the Ministry of Health and Social Services building in Québec City to denounce the slow pace of discussions with the Québec government and to support their bargaining team, which is meeting Treasury Board representatives on Friday afternoon.
"There are limits to waiting for Treasury Board president Sonia LeBel to get back to us," said APTS 4th vice-president Émilie Charbonneau in the entrance to the building. "She told us very clearly that she wanted to reach an agreement soon. A month ago, we suggested new measures that the government could take to acknowledge the crucial work performed by professionals and technicians in health and social services. We've gotten almost no response. If health and social services minister Christian Dubé wants us to leave the building, maybe he could put pressure on his colleague to come up with an offer that actually reflects the wide-ranging expertise of our 60,000 members."
APTS members have been without a collective agreement for over 19 months, and since the beginning of contract talks, the union has been asking the Legault government to take steps that would make a difference in attracting and retaining employees. The goal is to eliminate work overload and reduce waiting lists, which are exploding throughout the health and social services system. But the government's obsession with nurses and beneficiary attendants prevents it from seeing the extent of problems affecting the system as a whole – including problems that have a direct impact on professional and technical employees.
"Overtime, and often mandatory overtime, is a reality in medical labs, mental health services, medical imaging and nuclear medicine units, youth centres, rehabilitation centres for clients with intellectual disabilities or autism spectrum disorders, and many other sectors," says Émilie Charbonneau. "When will Minister Dubé decide to tackle this problem? Is he waiting for it to get as bad as the problem involving nurses? We don't want to reach that point, and we've put solutions on the table to make sure it doesn't happen. All he's got to do is use them."
The APTS
The APTS (Alliance du personnel professionnel et technique de la santé et des services sociaux) represents a total of 60,000 members who play a key role in ensuring that health and social services institutions run smoothly. Our members provide a wide range of services for the population as a whole, including diagnostic, rehabilitation, nutrition, psychosocial intervention, clinical support, and prevention services.