APTS calls on government to lift the public health emergency
June 30, 2021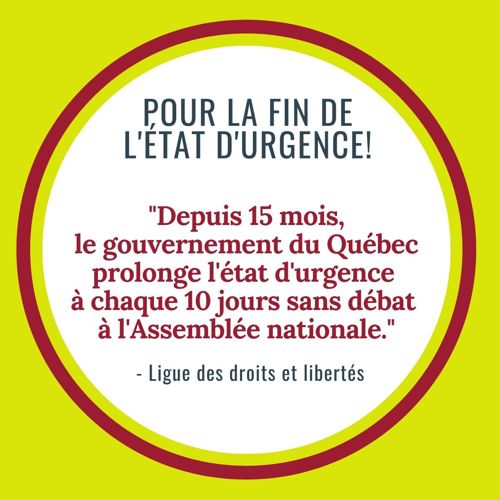 Montréal – The APTS has joined over 60 signatories of a statement by the Ligue des droits et libertés, demanding that government lift the public health emergency in Québec. Certain public health measures are necessary, but the exceptional situation warranting a state of emergency is now behind us. The Québec government has other tools for fighting the pandemic.
"The emergency triggered by COVID-19 is over, but the government is maintaining the state of emergency and using it to keep a grip on collective agreements in the public sector. As it eases certain restrictions, the government can no longer justify overriding the rights of workers in health and social services," declared Robert Comeau, the APTS interim president.
The APTS renewed its call to the government to address labour shortages and staff retention problems, rather than relying on decrees and ministerial orders. "The state of emergency is an exceptional measure. It's not the rule. It's time to end these measures than override duly negotiated collective agreements," he concluded.
The APTS
The APTS (Alliance du personnel professionnel et technique de la santé et des services sociaux) represents 60,000 members who play a key role in ensuring that health and social services institutions run smoothly. Our members provide a wide range of services for the population as a whole, including diagnostic, rehabilitation, nutrition, psychosocial intervention, clinical support, and prevention services.