1,700 blood tests thrown in the garbage at Hôpital Pierre-Le Gardeur: the APTS is appalled
July 19, 2022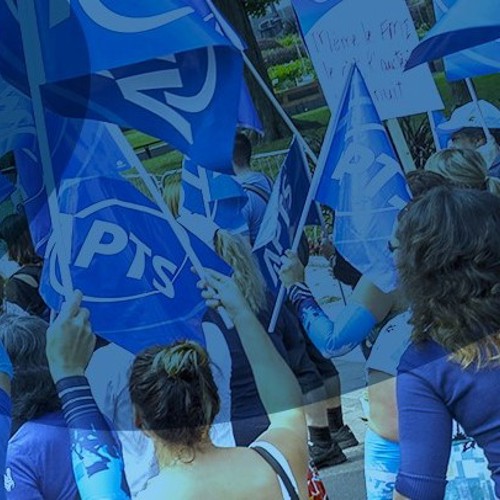 Terrebonne – The Alliance du personnel professionnel et technique de la santé et des services sociaux (APTS) was appalled to learn that 1,700 blood samples were destroyed before they could be analysed in time, because the lab was inadequately equipped and understaffed. The labour shortage is getting worse in the Lanaudière region, as elsewhere in the province.
"1,700 blood samples from diabetic patients were thrown in the garbage at Hôpital Pierre-Le Gardeur. All because of aging equipment and a lack of personnel. How can we ensure proper follow-up on patients' treatment under these conditions? We are talking about 1,700 Lanaudière residents who will have to go and redo their blood tests in the middle of the summer vacation period. It's unacceptable!" decried the local union president for the APTS-Lanaudière laboratories, Martin Lavigne.
What's even more alarming is that this situation could happen again, as the government isn't listening.
"Every day, more requests come in for lab tests than the staff and equipment can handle. It's a miracle that this situation hasn't been recurrent. What's more, the lab workers in question have no replacement equipment if the existing machine breaks down. When samples are more than 10 days old, they are no longer considered valid and must be thrown away. In this case, medical technologists and graduate medical lab technicians have lost a week's work, as have the doctors. It's appalling," continued the APTS provincial interim representative for Lanaudière, Maude Fréchette.
In assessing what's responsible for staff shortages in Québec laboratories, the government's move to centralize and reorganize medical laboratories in 2017 is rightly singled out.
"The centralization of laboratories, better known as OPTILAB, gives the illusion of optimization but in reality cuts into local services and puts the population at risk. The government has to take a few steps back and reverse course, for the health of Quebecers," added Martin Lavigne.
For the APTS, incidents and situations that are occurring in laboratories across the province are closely linked. "The situation at Hôpital Pierre-Le Gardeur is not unlike what employees at the Gaspé laboratory are experiencing. I went to the Gaspé a little over a week ago, and the situation was so serious that the lab was on the verge of a breakdown in service. That's still the case there, as it is in many other regions in Québec, unfortunately. It is urgent that health and social services minister Christian Dubé address the situation immediately and help ease the labour shortage in laboratories. He has to encourage new recruits, attract technologists and technicians to the regions, and offer conditions that keep them there. In taking those keys steps, the Minister would demonstrate political leadership and Quebecers would once again have access to the services they deserve," concluded Sandra Etienne, Vice-President of the APTS.
The APTS wants Quebecers to know that employees who have a diploma in biomedical laboratory technology perform a myriad of duties to diagnose diseases and ensure adequate patient follow-up and treatment. Their responsibilities include taking samples, preparing them for testing, and analysing them. As experts in their field, they ensure the precision and accuracy of the test results, so that doctors can make the right diagnosis. In short, they are indispensable to the public health and social services system.
The APTS
The APTS (Alliance du personnel professionnel et technique de la santé et des services sociaux) represents more than 65,000 members who play a key role in ensuring that health and social services institutions run smoothly. Our members provide a wide range of services for the population as a whole, including diagnostic, rehabilitation, nutrition, psychosocial intervention, clinical support, and prevention services.