The APTS gets a strong mandate for strike action: CIUSSS Montréal West Island
May 07, 2021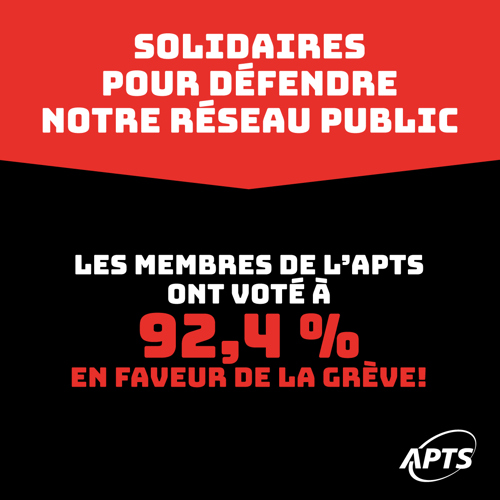 Montréal – With 92.4% voting in favour, the mandate given to the APTS (Alliance du personnel professionnel et technique de la santé et des services sociaux) to take strike action for up to 10 days is unequivocal. The union's consultation of its members, which began six weeks ago, ended today.
"The government's hardline approach to these contract talks is going to aggravate the labour shortage in the health and social services system," say Caroline Letarte-Simoneau, Daniel Dubé, Josée Fréchette, Nathalie Chalifoux, Robert Comeau and Teresa Muccari, APTS provincial representatives in Montréal. "Premier Legault and Treasury Board president Sonia LeBel have pushed our members to the limit by their unwillingness to initiate a genuine catch-up pay increase and their refusal to improve the overall quality of working conditions. Mr. Legault set off the powder keg last Sunday at a grotesque press conference where he tried to dress up his 5% pay increase to make it look like 8%. The CAQ government's unfair treatment of professionals and technicians is making our members even more determined to strike if nothing changes."
From the union's point of view, the Legault government's narrow vision, which totally excludes some job titles from any improvement in working conditions, will lead directly to a series of crises. These could be avoided if the government chose to work on comprehensive solutions right now instead of sowing division as a tactic. In Montréal, APTS members responded in solidarity, approving the strike mandate with a massively favourable vote ranging from 91.3% to 100% depending on the institution.
Strike votes by institution
| | |
| --- | --- |
| CHUM | 92.8% |
| CIUSSS du Centre-Sud-de-l'île-de-Montréal | 91.3% |
| CIUSSS du Nord-de-l'île-de-Montréal | 92.8% |
| CIUSSS Montréal West Island | 93.2% |
| CIUSSS West-Central Montreal | 97.4% |
| MUHC | 94.5% |
| CHSLD Bourget | 100% |
| Hôpital Marie-Clarac | 94.4% |
| Miriam Home and Services (Guimont Complex) | 100% |
| Montreal Heart Institute | 94.1% |
| Shriners Hospital for Children | 100% |
| Résidence Angelica | 100% |
| Résidence Berthiaume-Du Tremblay | 100% |
| Villa Medica Rehabilitation Hospital | 100% |
"This government is managing the health and social services system in response to whatever emergency arises in the moment," say the union representatives. "It won't tackle problems like work overload or attracting and retaining personnel unless there's a crisis. Waiting lists are getting longer and longer in every area – mental health, rehabilitation, getting biopsy or blood test results, or taking a medical imaging test. A crisis like the one we're seeing in youth protection could happen at any moment in some other sector. The response has to be energetic and comprehensive if we want to rebuild our public system and avoid tragic events. That's what the APTS is proposing."
Laurent Commission report: no impact at the bargaining table
The APTS is disappointed that the government has not yet improved offers for youth protection workers on the basis of recommendActions from the special commission on the rights of children and youth protection (CSDEPJ), chaired by Régine Laurent.
"In its report, the special commission supports our demands to reduce work overload and make it easier to attract and retain youth workers, so that we can offer the services that children and families are entitled to," say the union spokespersons. "Last Sunday, the premier told us he's been patient enough after 18 months of contract talks. So when is he going to set up the measures that are required to provide Québec's vulnerable children with the services they need?"
Over the next few days, the union's decision-making bodies will determine how and when APTS members will be exercising their right to strike if the Legault government does not substantially improve the offers it filed on March 31. Any negotiated agreement must necessarily include a genuine catch-up pay increase.
"Premier Legault takes every opportunity to complain about the pay gap between Québec and Ontario, saying we need to provide well-paid jobs if we want to close it," say Letarte-Simoneau, Dubé, Fréchette, Chalifoux, Comeau and Muccari.  "And yet, he's refusing to apply this solution to his own health and social services system. On the other side of the Ottawa river, the basic salary of a medical technologist is higher than the maximum salary she can get in Québec. If he wants to reach his objectives, his words and actions will have to line up. He'll have to give a catch-up pay increase to the women and men working for our public system."
The APTS
The APTS (Alliance du personnel professionnel et technique de la santé et des services sociaux) represents a total of 60,000 members who play a key role in ensuring that health and social services institutions run smoothly. Our members provide a wide range of services for the population as a whole, including diagnostic, rehabilitation, nutrition, psychosocial intervention, clinical support, and prevention services.