Contract talks | Agreement in principle approved by over 81% of APTS General Council delegates who encourage union members to adopt it in general assemblies
November 29, 2021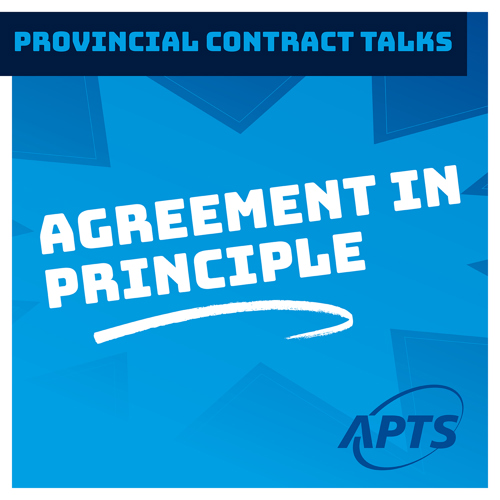 Longueuil – The agreement in principle reached by the government and the APTS (Alliance du personnel professionnel et technique de la santé et des services sociaux) has been approved by over 81% of delegates to the APTS General Council. The Council will recommend that the union's 60,000 members adopt the agreement in general assemblies to be held over the next few weeks.
"We've just taken another step towards offering our members a new collective agreement," said APTS president Robert Comeau at the end of today's General Council meeting. "We've gone as far as we can to achieve maximum gains that will improve their working conditions in concrete ways. Overall, it's a good agreement for professionals and technicians in health and social services. That said, the health and social services system has huge needs in terms of labour power, and the measures in this agreement will not be sufficient to meet those needs."
Youth centre and DPJ youth protection workers
Youth centre employees who work with clients, identified by the government as a priority group after the APTS launched a campaign following the death of a little girl in Granby, will receive a 4% premium. An additional 3% premium will apply in four DPJ sectors – intake and dealing with reports, assessment-referral, applying measures and follow-up – until September 30, 2023, unless it is renewed during the next round of contract talks. Employees will also be given the option to convert part of their premium in order to take five floating days off per year.
"Adding floating days off so that youth centre workers can recharge their batteries after a traumatic event is something the APTS has been requesting for a long time," said Comeau. "This was also recommended by the special commission on the rights of children and youth protection in its report. The principle we're establishing in this agreement is a first step toward recognition of the situation APTS members are facing at the DPJ."
Mental health
For professionals and technicians working in the mental health sector, the APTS has obtained a broader application of the premium in psychiatry, which will now be given to employees working in activity centres who don't already benefit from the floating days off. These employees will also receive financial compensation equivalent to 2.2% of the pay associated with the five days off.
COVID premium for employees in labs and the medical imaging sector
APTS members working in medical labs and medical imaging (radiology, nuclear medicine, radiation oncology and medical electrophysiology) face a deeply unfair situation, having been denied several premiums established to fight COVID-19 during the public health emergency. To make up for this injustice, the union has obtained $6.1 million for employees who were unfairly deprived of the premiums.
Pay equity maintenance complaints for physiotherapists
The APTS deplores the government's last-minute withdrawal of an agreement to settle pay equity maintenance complaints from 2010 for job titles associated with physiotherapy. This agreement was included in the employer offer dated June 22, 2021. To remove the dissatisfaction created by its decision, the government has finally agreed to provide an additional $1.9 million for physiotherapists. Complaints currently filed with the CNESST are nonetheless maintained, and the APTS will continue to take steps to correct the injustice experienced by the physiotherapy family.
"Treasury Board president Sonia LeBel had a great opportunity to settle the last APTS pay equity maintenance complaints related to the 2010 audit and put them behind her," concluded Comeau. "That would have meant she was actually doing something to provide recognition for physiotherapists. She'll have to take the blame for her decision. Meanwhile, we'll keep on working to eliminate this injustice, which has been around for far too long."
The agreement in principle also includes other measures, including $1 million for employees in residences with continuous assistance (RACs) and rehabilitation centres for clients with intellectual disabilities or autism spectrum disorders (CRDI-TSA). All aspects of the agreement in principle will be presented to APTS members at special general assemblies in the near future.
The APTS
The APTS (Alliance du personnel professionnel et technique de la santé et des services sociaux) represents a total of 60,000 members who play a key role in ensuring that health and social services institutions run smoothly. Our members provide a wide range of services for the population as a whole, including diagnostic, rehabilitation, nutrition, psychosocial intervention, clinical support, and prevention services.