Bill 15 | Health care unions sharply critical of a bill that will increase centralization and pander to the private sector
June 08, 2023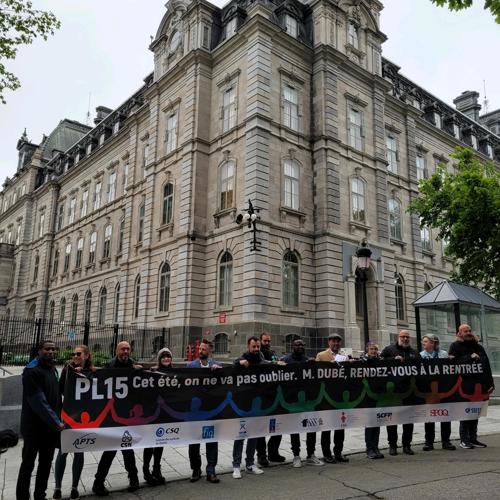 Montréal – Bill 15, in its current form, is not the reform that Québec needs. That's the message sent to the Québec government by all of the unions involved in health and social services as the parliamentary session draws to a close.
During a mobilization event at the National Assembly this morning, union spokespersons and activists unfurled a banner and handed out leaflets to MNAs and political staffers.
"Summer won't make us forget Bill 15 – that's what we're telling the Québec government today," said spokespersons for the APTS, CSN, CSQ, FSQ-CSQ, FIQ, FP-CSN, FSSS-CSN, FTQ, CUPE Québec, SPGQ and SQEES. "This bill is extremely centralizing and much too favourable to the private sector – and it's going to fail unless working conditions on the ground are substantially improved. If the health minister wants to work with us this summer to improve his bill, we're available. All employees, regardless of their job class, deserve efforts to reduce the labour shortage and the pressure they're experiencing. It's simply a matter of respect."
Basic principles
The labour unions once again asserted what they had said in their Statement of Principles: the plan to carry out a major reform of Québec's health and social services system must be based on a strong statement of its public character. The reform must also meet the system's real challenges by decentralizing it, making it more democratic, and ensuring that services are more accessible.
The unions also said that all Quebecers must be guaranteed access to care and services provided by the public system. "The private sector is taking up funding and human resources that should be made available to the public system," said the spokespersons. "The bill should not promote commoditized health care, or allocate resources to fund and enrich the private sector. Also, over the past twenty years, we've seen a worrisome acceleration in the loss of democratic power held by citizens and employees within the public health and social services system. Decentralizing the system and making it more democratic, by working with actors involved in the system, are crucial steps that must be taken so that we can establish better priorities and adapt care and services to specific needs and realities. This will allow us to act preventively on social determinants, which are currently being ignored in Bill 15."
Sources : APTS, CSN, CSQ, FIQ, FP-CSN, FSSS-CSN, SCFP, SPGQ, SQEES