2021 Québec budget | Nothing to improve working conditions for professionals and technicians battling COVID for the past year
March 25, 2021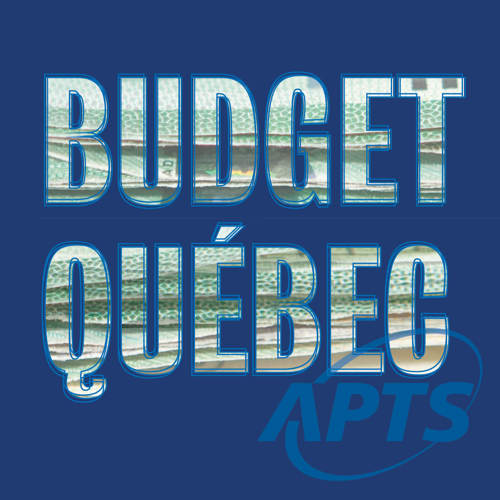 The APTS (Alliance du personnel professionnel et technique de la santé et des services sociaux) is disappointed, but not surprised, by the 2021-2022 budget tabled by Québec finance minister Éric Girard. This budget does nothing to advance contract talks in the health and social services system, which have been stalled for over 16 months.
"The government can always find money to reinvest in traditionally male sectors, or to provide bigger salaries at Investissement Québec. But when it's time to reinvest in the people who actually provide health care and social services – most of whom are women – there's never any money," says Laure Letarte-Lavoie, APTS 4th vice-president. "The worst thing is that we're not even surprised anymore. Investissement Québec doesn't analyze COVID-19 tests. They don't do scans or X-rays, make sure respirators are working, or monitor the nutritional intake of hospitalized patients. Nor do we see them help survivors with their physical rehabilitation, support the mental health of Quebecers who have been confined for months, or protect vulnerable children. With this budget, women are the biggest losers. Again."
The APTS is also disappointed that the CAQ is not suspending deposits to the Generations Fund. The government is choosing to deprive itself of money that it would be highly beneficial to reinvest in health and social services professionals and technicians. These are workers whose wages and benefits are still lagging approximately 8% behind the compensation of other Québec employees.
"Despite the crisis, the government's debt ratio is under control, and our debt service payments are at an all-time low," adds Letarte-Lavoie. "Why is the government so set on putting money in the Generations Fund while the pay of people who are using every last ounce of their energy to hold the system together has been steadily diminishing over the past 20 years? Right now, employment agencies and private companies are sucking the life out of the public system by offering working conditions that make the government's look ridiculous."
Investments in support programs save the day
The APTS applauds the government's decision to provide major reinvestments in public health, mental health, accommodation, home care and youth programs. At the same time, the union urges the government to take one last step and eliminate the $1 billion shortfall that persists for the "Services to the Public" program. And the issue now will be to ensure that reinvestments are maintained in the future.
It is also clear that if the government wants its reinvestments to lead to an actual increase in services to the public, it will have to focus on workers in health and social services.
"At a certain point, you have to stop thinking you're going to attract flies with vinegar," says Letarte-Lavoie. "Yes, the government can release funds to provide more services in mental health, home care and youth centres, but nobody will be there to give Quebecers these services if wages and working conditions aren't attractive. We need to recognize the value of the expertise provided by professionals and technicians, and there's only one way to do this – by providing a significant pay increase and a significant improvement in working conditions."
The APTS
The APTS (Alliance du personnel professionnel et technique de la santé et des services sociaux) represents a total of 60,000 members who play a key role in ensuring that health and social services institutions run smoothly. Our members provide a wide range of services for the population as a whole, including diagnostic, rehabilitation, nutrition, psychosocial intervention, clinical support, and prevention services.