The Laurent Commission | The APTS calls on Legault to act without delay to support children and families
May 04, 2021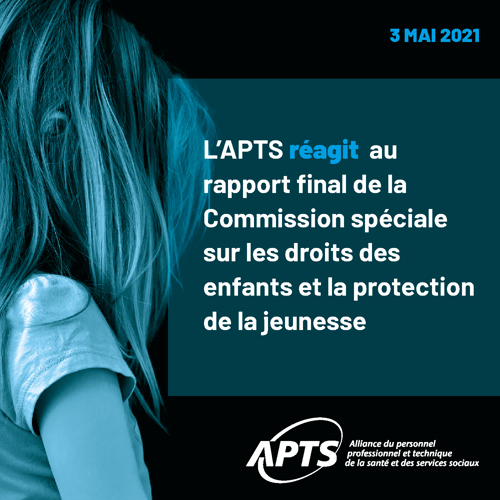 Longueuil – The final report of the special commission on children's rights and youth protection (CSDEPJ), chaired by Régine Laurent, is welcomed with great satisfaction by the APTS (Alliance du personnel professionnel et technique de la santé et des services sociaux). The report – released today – states unequivocally that the higher interest of the child must be placed above any other consideration.
"This report, which is historic for youth services, confirms what the APTS has been saying for years. If we want to improve services for Québec's children and families, we have to provide massive reinvestment, improve conditions of practice for both front-line workers and youth protection workers, and review their workload," says APTS president Andrée Poirier. "Youth Protection (the DPJ) has to stop being the emergency waiting room and go back to providing intensive care. We've said this time and time again. Premier Legault and Lionel Carmant, the deputy minister for health and social services, need to take note of this reality and adopt the key measures that are needed to ensure that the report's 'recommendActions' are successfully carried out."
The APTS salutes the colossal task carried out by the commissioners, who offer a comprehensive vision promising greater support for Québec families and better protection for our children. Some of the recommendActions will have a decisive impact on the public health and social services system: appointing a commissioner responsible for children's well-being and rights; investing in front-line services to prevent child abuse by addressing its root causes; adjusting youth workers' workloads to ensure they are tailored to the real needs of children and families; and removing these workers' administrative tasks so that they can dedicate themselves to their clients. Another measure that would improve children's lives is the development of a collaborative, participative and adapted approach to the court system that would ensure better alignment between clinical considerations and the courts.
"We need to stop looking at public services as if we were accountants and start taking innovative measures that will benefit children and families," says Andrée Poirier. "To stop employees from leaving youth protection in droves, we need to put an end to the pressure of statistics, to outrageous demands for accountability, and to budget cuts. We need to do the opposite: restore people's desire to dedicate themselves to this crucial mission entrusted to our public system by acknowledging the value of their professions and by giving them the professional autonomy they need to do their job."
The APTS is committed to hounding François Legault, Lionel Carmant and Treasury Board president Sonia LeBel to make sure the commission's recommendActions are given concrete form as soon as possible. Representing close to 10,000 youth protection workers, the union also highlights the fact that despite all of these promising proposals, youth services are still at risk of being buried within CISSSs and CIUSSSs, the centralizing megastructures that have damaged our ability to provide services for Québec families.
"Yesterday, the premier told us he'd been patient enough after 18 months of contract talks," says Poirier. "Our response is to tell him that Québec's vulnerable children are the ones who've shown true patience. They've been waiting for years for the government to find enough resources to provide services that would actually fit their needs. This is true both for the front line and for youth protection. Québec families can count on the APTS to keep a close watch on the situation and continue putting pressure on ministers until the recommendActions are followed. These proposals are just too important – we can't allow them to be shelved for lack of political will."
The APTS
The APTS (Alliance du personnel professionnel et technique de la santé et des services sociaux) represents a total of 60,000 members who play a key role in ensuring that health and social services institutions run smoothly. Our members provide a wide range of services for the population as a whole, including diagnostic, rehabilitation, nutrition, psychosocial intervention, clinical support, and prevention services.