Front commun sets the record straight after government's misleading statements
February 16, 2023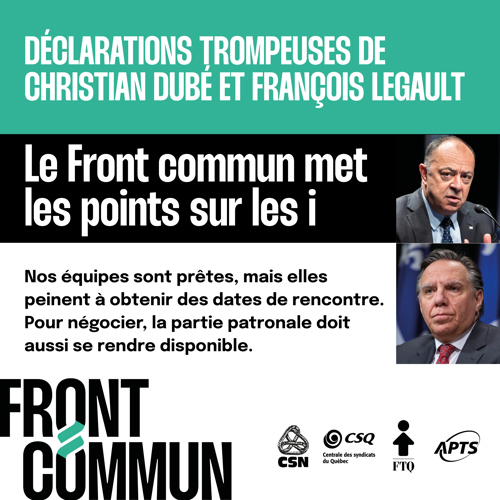 Québec City – The Front commun reacted sharply to misleading statements made today by health minister Christian Dubé and premier François Legault, who admonished unions to come to the bargaining tables.
"These statements are pretty unimpressive given the fact that our teams are available to meet the government, but are finding it very difficult to schedule dates at the bargaining tables," said first CSN vice-president François Enault, CSQ president Éric Gingras, FTQ president Magali Picard, and APTS president Robert Comeau, speaking on behalf of the Front commun. "Let's be clear: our teams are ready. They've brought very concrete proposals to each of the bargaining tables and suggested several dates for meetings, but somehow the employer doesn't seem to have the same degree of availability. At the pace suggested by the employer for upcoming meetings, we'll be negotiating forever. We'd like to remind the Treasury Board that there are 12 months in 2023, and that at this rate, contract talks will last three years."
"Instead of focusing on public relations, we wish the government would turn its attention to the bargaining tables," added the Front commun spokespersons. "What are they doing – playing for time because they're not ready? Given the high stakes involved for our health and social services, schools, and universities, it seems obvious the government should take immediate action at the bargaining tables to reach agreement on solutions that can be rolled out in these sectors, instead of doing everything it can to divert media attention. It's ironic to see this being done by a government that keeps claiming we need to give up our 'old habits and ways of doing things'."
The Front commun says the government is sending a bad signal to the 420,000 public sector workers it represents, and to Quebecers in general. Meanwhile, union bargaining teams are still waiting for an appropriate schedule of meetings at each bargaining table.
The Front commun
Together, the CSN, CSQ, FTQ and APTS represent over 420,000 public-sector workers employed by the Québec government in schools, health and social services, and higher education, and whose collective agreements are set to expire on March 31, 2023.
For more information on the contract talks: https://www.frontcommun.org/.
Source: Front commun (CSN, CSQ, FTQ, APTS)