For the new parliamentary session | APTS presents its checklist for health and social services
January 31, 2023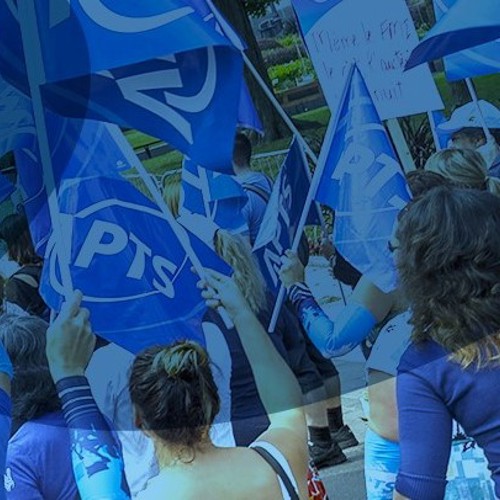 Longueuil – To coincide with parliament reopening at the National Assembly, the Alliance du personnel professionnel et technique de la santé et des services sociaux (APTS) announced its checklist for the Legault government this winter and spring, targeting five key areas of health care and social services.
Labour shortage and reorganization of the healthcare system
Québec's health and social service sector is wracked by a serious labour shortage that is getting worse from year to year. For the APTS, steps to attract and retain employees are essential in making public-service jobs more desirable ― and are imperative if Minister Dubé is to honour his commitments to rid the public sector of placement agencies and put an end to forced overtime.
The union also wants to point out to the health minister what's at stake in technical medical departments that include biomedical testing labs along with medical imaging, nuclear medicine, medical electrophysiology and radiation oncology. These departments are often overlooked by decisionmakers.
"Our entire healthcare system is experiencing a severe labour shortage, but it has reached a critical level in technical medical departments, where services could regularly break down. These sectors are crucial for the system to work properly. Our hospitals are going to hit a wall if solutions aren't found immediately," warned APTS President Robert Comeau.
Reorganizing the healthcare system is also on the government's agenda, with its health reform (Plan santé) and the creation of a new government agency (Santé Québec). Although the APTS is in favour of a decentralized public system where decisions are made in closer proximity to workers, it is wary about having a new agency mandated to oversee the province's integrated health and social service centres (CISSS and CIUSSS).
Major challenges for youth services
A year and a half after the Special Commission on the Rights of Children and Youth Protection tabled its report, much still needs to be done to provide Québec children and families with services that are deemed essential. The APTS is calling for urgent action to establish standards of practice that alleviate workload, limit the number of cases assigned to youth workers, accommodate children's needs, and ensure the best intervention practices possible.
"To start off the new year, if one priority had to be set for the provincial director of youth protection, it would be to complete the review of the standards of practice. The APTS is ready to lend a hand in the review process, and hopes that the Ministry of Health and Social Services will welcome this offer to make a positive change for youth protection workers," said Robert Comeau.
Continuum of care for seniors
Care and services for the elderly, whether in residential centres or at home, should receive greater attention in the coming months. Given Québec's aging population, it is crucial that the government rethink the way services are organized and invest in home support services. According to the APTS, a key step in ensuring better adapted living environments for seniors would be to rely more on an interdisciplinary approach and on the expertise of professional and technical employees who provide services.
"We presented these priorities to Ministers Dubé, Carmant and Bélanger earlier in the fall. We want to work together to improve Quebecers' access to quality health care and social services. The APTS is determined to mobilize its forces to block privatization and other practices that undermine the professions of its 65,000 members," concluded the APTS president.
The APTS
 The APTS (Alliance du personnel professionnel et technique de la santé et des services sociaux) represents more than 65,000 members who play a key role in ensuring that health and social services institutions run smoothly. Our members provide a wide range of services for the population as a whole, including diagnostic, rehabilitation, nutrition, psychosocial intervention, clinical support, and prevention services.