Contract talks | Exasperated APTS delegates stop their Convention to demonstrate
November 18, 2021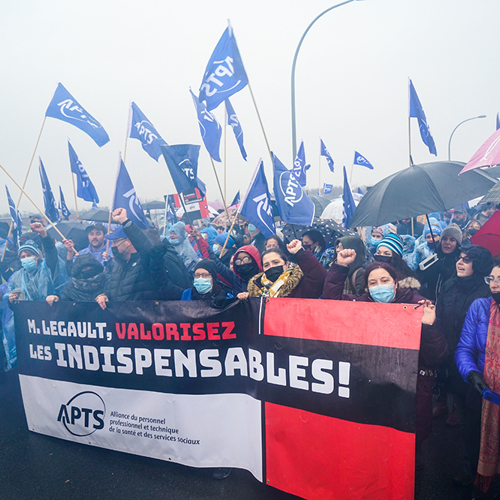 Laval — Over 750 delegates attending the Convention of the APTS (Alliance du personnel professionnel et technique de la santé et des services sociaux) stopped proceedings at the event in order to demonstrate in the streets of Laval. APTS members have been without a collective agreement since March 31, 2020. Coming from the Sheraton Hotel and the Palace Convention Centre, demonstrators met on the Boulevard Le Carrefour overpass above the Laurentian Autoroute to light smoke sticks and emergency road flares.
"Our 60,000 members feel that Treasury Board president Sonia LeBel is simply incapable of seeing them," says APTS interim president Robert Comeau. "If she wants to meet us so that we can finally come to an agreement, she knows where to find us."
APTS delegates are exasperated by the government's unwillingness to give negotiators for the employer side a mandate empowering them to finally break the stalemate at the bargaining table. "In the spring of 2020, the government claimed it was optimistic and thought we could quickly reach a negotiated settlement for the renewal of our collective agreement," says Comeau. "That was over eighteen months ago and negotiations are still dragging on interminably. It looks like problems in attracting and retaining professional and technical employees may continue to get worse – and if that happens, the government will have only itself to blame."
The APTS
The APTS (Alliance du personnel professionnel et technique de la santé et des services sociaux) represents a total of 60,000 members who play a key role in ensuring that health and social services institutions run smoothly. Our members provide a wide range of services for the population as a whole, including diagnostic, rehabilitation, nutrition, psychosocial intervention, clinical support, and prevention services.