Bad-faith bargaining and interference in union activities: APTS takes the government to court
June 01, 2023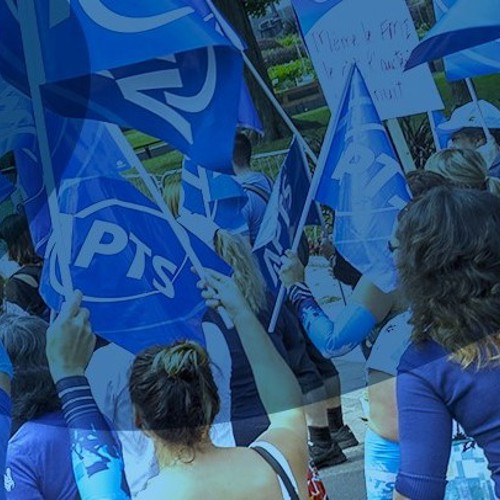 Longueuil – Today the Alliance du personnel professionnel et technique de la santé et des services sociaux (APTS) announced legal action against the Legault government to defend workers' rights to organize and bargain collectively. The union asserts that the management side is bargaining in bad faith and has interfered in union activities by unilaterally imposing a bonus that applies only to certain youth protection workers − right in the middle of contract talks − to cover the cost of belonging to a professional order.
"After we refused this inequitable offer, the health and social services ministry short-circuited employees' right to negotiate their working conditions. We are taking legal action to protect the right to organize and freely engage in fair and equitable collective bargaining," declared Robert Comeau, president of the APTS.
The government is essentially restricting its offer to the youth protection assessment and referral sector. The APTS sees this offer as far too limited, given the extent of the problems in attracting and retaining workers in all areas of health and social services.
"We would have been ready to explore this proposal ­­− as a pilot project – if it had been offered to all youth centres in the first instance, then to other sectors in health and social services, as our members requested. But in the thick of public-sector contract talks, the ministry chose to impose its own measure instead of seeking a compromise. We can't let this go by. It's a flagrant violation of the principles of collective bargaining," added Robert Comeau.
By unilaterally changing the working conditions of youth protection workers, the CAQ government once again showed its arrogance and insistence on running things its own way. And after being found guilty last year of interfering in union activities, it had the nerve to commit the same violation. "We can't negotiate with a government that imposes its own priorities without being open to employees' demands. The APTS represents more than 65,000 professionals and technicians, and we'll keep fighting on every front to win better working conditions for all of them, whatever their profession or sector," concluded Robert Comeau.
The APTS    
The APTS (Alliance du personnel professionnel et technique de la santé et des services sociaux) represents more than 65,000 members who play a key role in ensuring that health and social services institutions run smoothly. Our members provide a wide range of services for the population as a whole, including diagnostic, rehabilitation, nutrition, psychosocial intervention, clinical support, and prevention services.