Unions react to the ISQ report on Québec public service employees' remuneration : catch-up increases are needed to close the ongoing wage gap
November 30, 2022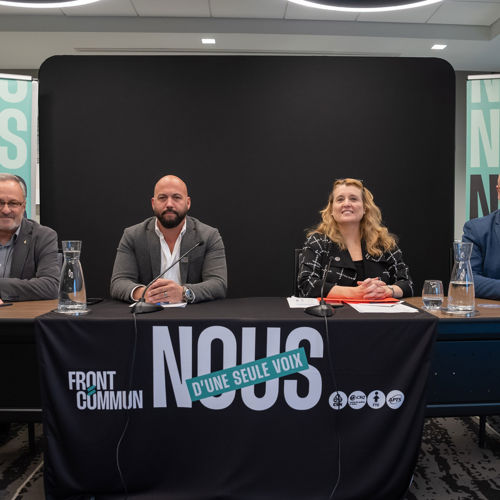 Montréal - With public-sector talks looming, the Institut de la statistique du Québec (ISQ) has once again this year confirmed a stark reality: in terms of overall compensation (including employee benefits), public-sector workers are persistently lagging behind other Québec workers. As of April 1, 2022, the gap was 3.9%.
"In terms of wages alone, as in previous years, there's a significant gap: it comes to 11.9% compared to all other Québec employees," said CSQ president Éric Gingras, CSN president Caroline Senneville, APTS president Robert Comeau and FTQ president Daniel Boyer. "And then the government wonders why, in the middle of a labour shortage, it's proving difficult to attract and retain employees in our public institutions – schools, health and social services, and higher education."
The union leaders added: "We're asking for a cost-of-living clause to protect workers' purchasing power, as well as pay raises that reflect the value of the services provided to Quebecers."
A closer look at specific ISQ data reveals major disparities. Unionized private-sector workers, for instance, receive total compensation that is 9.3% higher compared to the public sector. There are also significant gaps compared to other sectors with comparable conditions, such as the municipal sector (-34.6%), public corporations (-19.6%), universities (-15%) and the federal public service (-11.6%).
Workers in skilled trades, such as carpenters, electricians and plumbers, are lagging far behind with a 30.7% gap. It's no surprise, then, that health and social service institutions, schools and colleges are finding it difficult to recruit the highly qualified workers they need to maintain their facilities.
"Over and above the figures presented by the ISQ, we need to tackle the problems that are undermining our public sector," said the union leaders. "And contract talks are the only way to do this. The Legault government must carefully consider the pay offers that it will be presenting to government employees by late December. These offers must provide for real gains.  We need more than good will, broad orientations and a truckload of thank yous. The status quo is not acceptable."
Some facts and figures to clarify the issues at the bargaining table
Average salary of Front communpublic-sector employees: $43,916
Wage lag: -11.9%
Overall compensation lag: -3.9%
Percentage of workers represented by the Front commun who are women: 78%
For more information about the contract talks: https://www.frontcommun.org/.
The Front commun
Together, the CSN, CSQ, FTQ and APTS represent over 420,000 public-sector workers who are employed by the Québec government in schools, health and social services, and higher education, and whose collective agreements are scheduled to expire on March 31, 2023.