Public-sector bargaining talks: an update as summer begins
June 27, 2023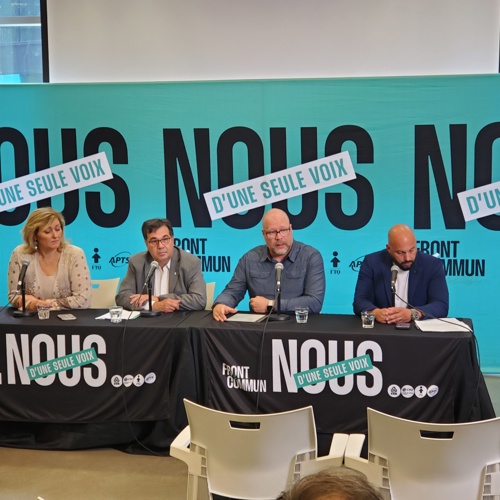 Montréal – Front commun representatives met with the media on Tuesday morning to take stock of public-sector contract talks as summer begins.
"Unions have brought solutions to the bargaining table – despite what the Treasury Board president has implied – and we expect those solutions to be part of the discussion," said first CSN vice-president François Enault, CSQ president Éric Gingras, APTS president Robert Comeau and FTQ president Magali Picard. "The government can't just decide to discuss only its own priorities. We want to reach an agreement quickly, but not at any cost. We hope the conversation will pick up the pace over the summer, with accelerated exchanges at the bargaining tables."
Union leaders also wanted to talk about their members' mobilization. "Over the past weeks, we've had a lot of discussions about intensifying mobilization," they noted. "All over Québec, Front commun colours have been highly visible in workplaces, at festive events, in front of riding offices, when we've welcomed ministers coming for a visit, and so on. But mobilization will become a very different thing when summer ends, because Front commun unions have been given a unanimous mandate to plan for the strategic use of strike action. We've been working on this for several weeks now."
 The Front commun believes it is high time for exchanges at the bargaining tables to take a different turn. At the moment, the Treasury Board's pay offer still involves a 9% increase over five years, even though the inflation rate for 2022 alone was 6.7%.
"Let's be serious. The government is trying to cast us as antagonists, but the reality is that the state of our public services requires ambitious solutions and openness to workers' proposals. This should be reflected in exchanges at the bargaining table."
To stop the exodus of workers from Québec's public services, the Front commun wants better working conditions that will attract and retain staff in schools, health and social services, and higher education. Meanwhile, the government is moving in the opposite direction with its frontal attacks on the RREGOP (Government and Public Employees Retirement Plan), which may well push a significant proportion of people nearing retirement towards the exit – even though our pension plan is in good financial health, and constitutes one of the rare advantages of the public sector when compared to the private sector.
"If the Legault government was looking for another way to make our members angry, it's definitely found it!"
Union leaders were quick to point out that we should not underestimate union members' determination and ability to mobilize. "They've seen it all before. It's the same old story, and right now, all the government is doing is causing discontent. The Front commun was formed as a response to the government's divisive strategies, which are hurting our public services. What we really need is a long-term social vision that would take us beyond the process of haggling at the bargaining table. But there's no such thing. It's really sad. That's what we want to say to people about our public services."
Province-wide demonstration on September 23
The Front commun is organizing a province-wide march in Montréal on September 23. All Quebecers are invited to join. "If you're affected either directly or indirectly, if you know people working in our system, if you want to show that you support our struggle and that you value Québec's public services, that will be the time to say so loud and clear. We need every single one of you to make your voice heard!"
Front commun demands
In terms of pay, the Front commun is demanding a permanent annual indexing clause based on the Consumer Price Index (CPI), as well as a general catchup pay increase.
For 2023: an increase of $100 per week for all workers OR CPI + 2% (whichever is more beneficial)
For 2024: CPI + 3%
For 2025: CPI + 4%
The Front commun is also bringing various other issues to the central bargaining table, including demands relating to:
retirement,
parental rights,
regional disparities,
group insurance, and
For more information on current contract talks: https://www.frontcommun.org.
The Front commun
Together, the CSN, CSQ, FTQ and APTS represent over 420,000 public-sector workers employed by the Québec government in schools, health and social services, and higher education. Collective agreements for these workers expired on March 31, 2023.
Sources : CSN, CSQ, FTQ and APTS